"And you're not scared, Joseph? Outside -50°C!", The driver asked me.
"For now, I don't have children, wife, yesterday I celebrated my 30 years, when, if not today?"
"Yes, I understand"
I'm not telling him that I haven't slept much last night. There is no time to discuss fear.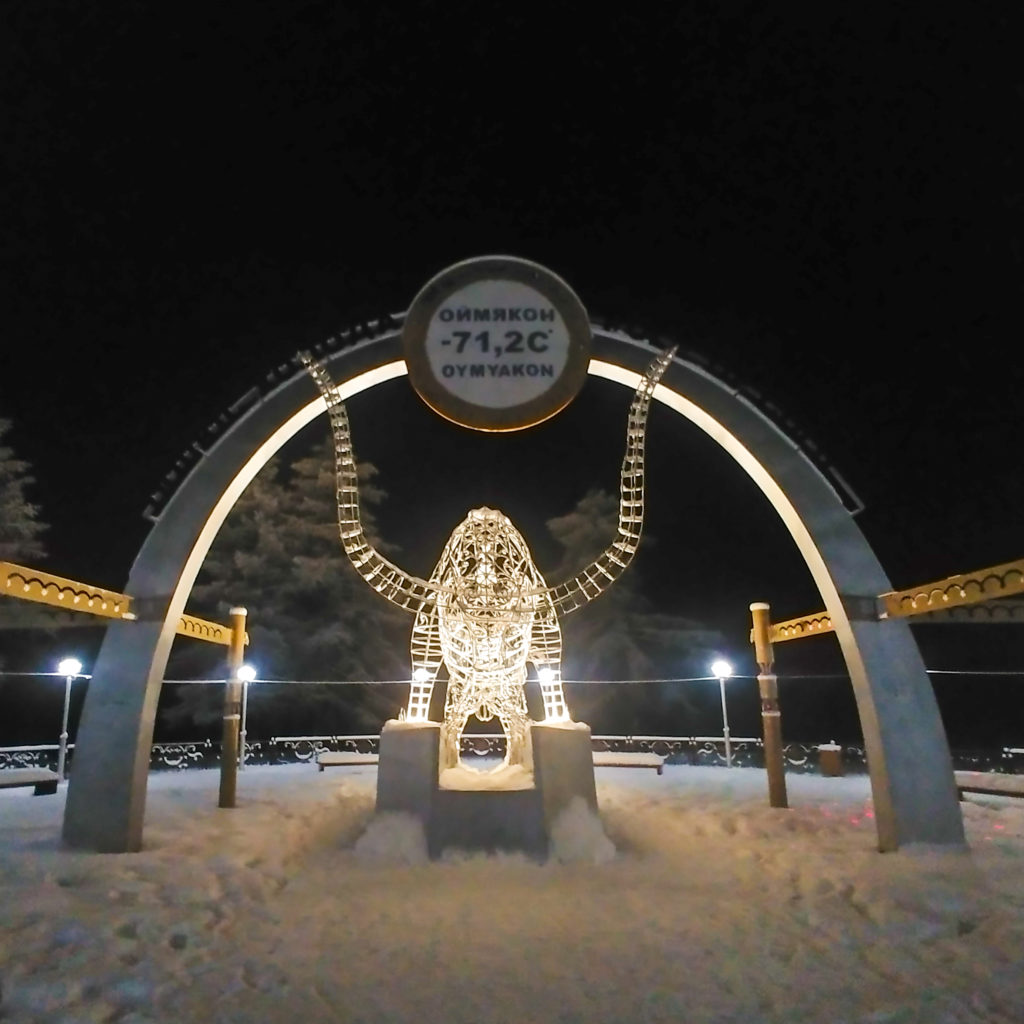 Introduction
The road of the bones is 2000 km long route from Yakutsk to Magadan. It is the only one road in the far Russian East, built by gulag prisoners and one man is buried under every meter of this road. Hence the path of the bones.
There are three ways to come to Oymyakon, the coldest place on earth:
1. Tourist – pay for a local guide who will organize the entire expedition. It is about 1000 km in one direction through the frozen Siberian wasteland where the temperature outside is around -50°C. Accommodations is very rare. Hotels do not exist because tourists do not visit this place. Sleeping is possible only with locals. It is one of the exclusive experiences. For such a trip is charged from 1000 €.
2. Local – buses do not travel to this area, but of course local people need somehow to get home. So, taxi costs about 100 € for a one-way trip. But it only happens when it is full, certainly not every day. Accommodation in Oymyakon is only one and costs about 50€ per night. Food in this area is very expensive. Such a trip will cost you up to 1000 €.
3. Hitchhiking – that's not very popular here, but where is a road, there are cars. Where there are cars, there is a possibility that someone will stop and pick you up. If you are ready to sleep outside in -50°C, hitchhiking will be a safe experience.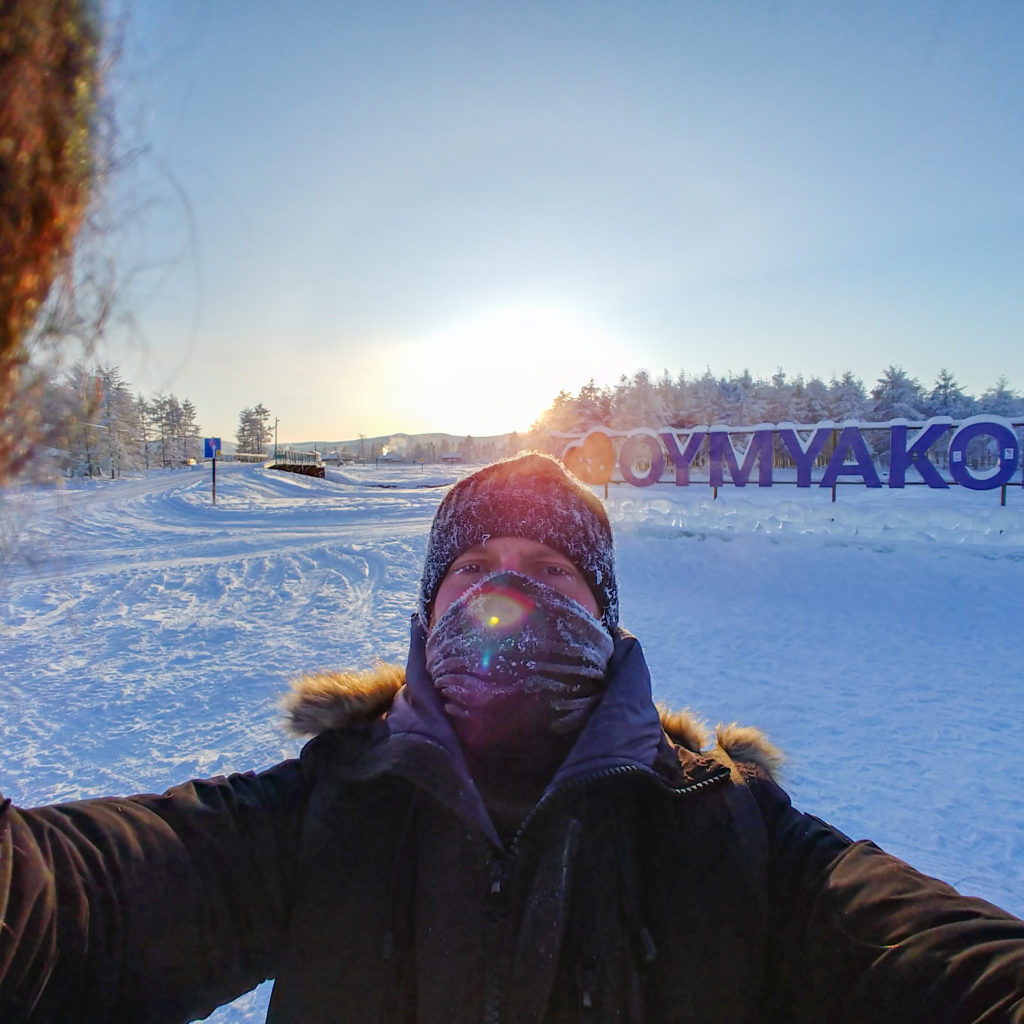 My travel diary
I'm starting my trip in Yakutsk. The first mistake I made was to publicly disclose my intention. Local friends are keeping fingers crossed for me now and I try to pretend that all it's ok, but honestly – I have a lot of respect for it.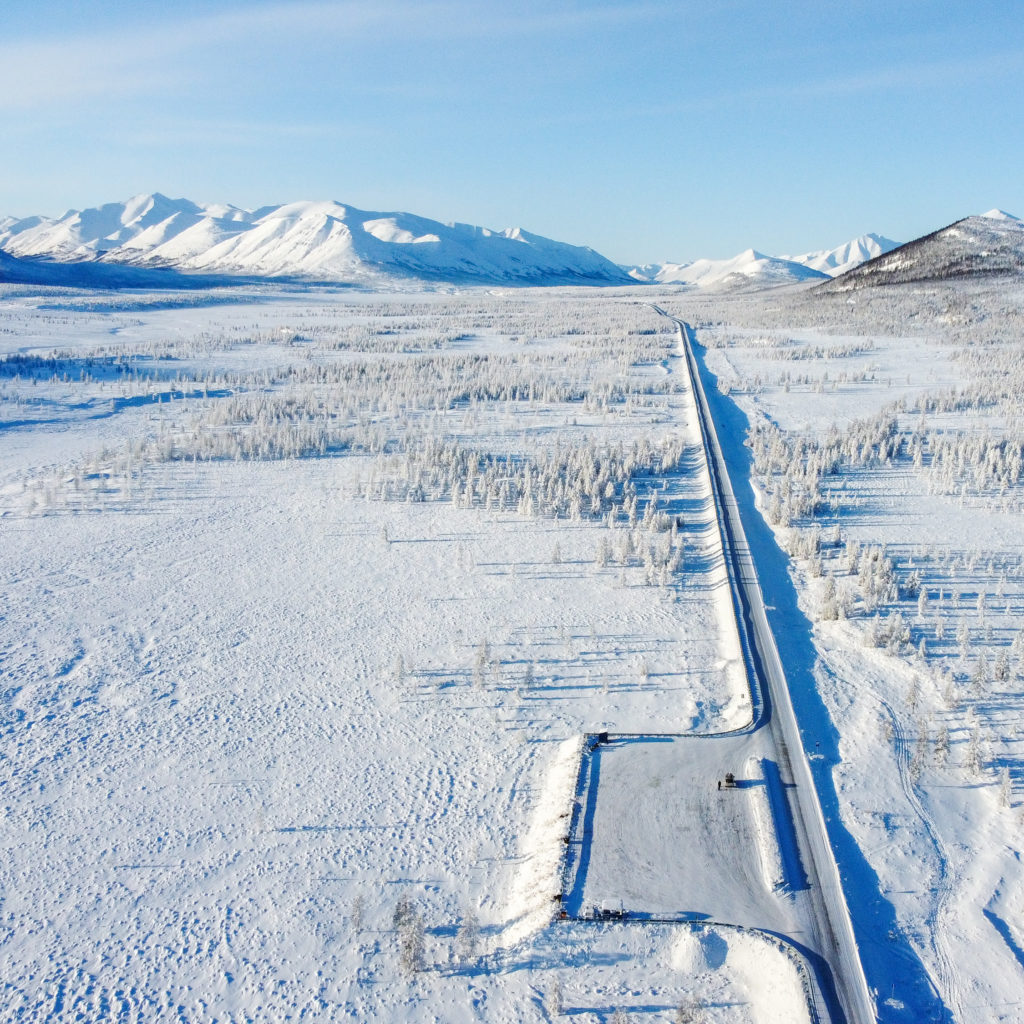 5.2.2020 I want to go as soon as possible, before the inner fear puts me down, and I find some stupid excuse, which I of course wrap in some wise-sounding cover, just to do not lose face.
Today, however, seems lost. I need to cross the frozen river, which has 7 km to the other side all done in the dark so that I can start hitchhiking early in the morning. Since walking on ice 7km during the dark doesn't sound like attractive idea, this section I plan to go by taxi. Visas are also pushing me. In 10 days, I have to leave the country and infront of me is an adventure that is difficult to estimate.
Suddenly the news come from Julia, a local girl who yesterday posted on Instagram my intention to hitchhike Oymyakon. One guy told her that he would take me to Khandiga for a friendly price. He's leaving tonight, we'll be there after midnight.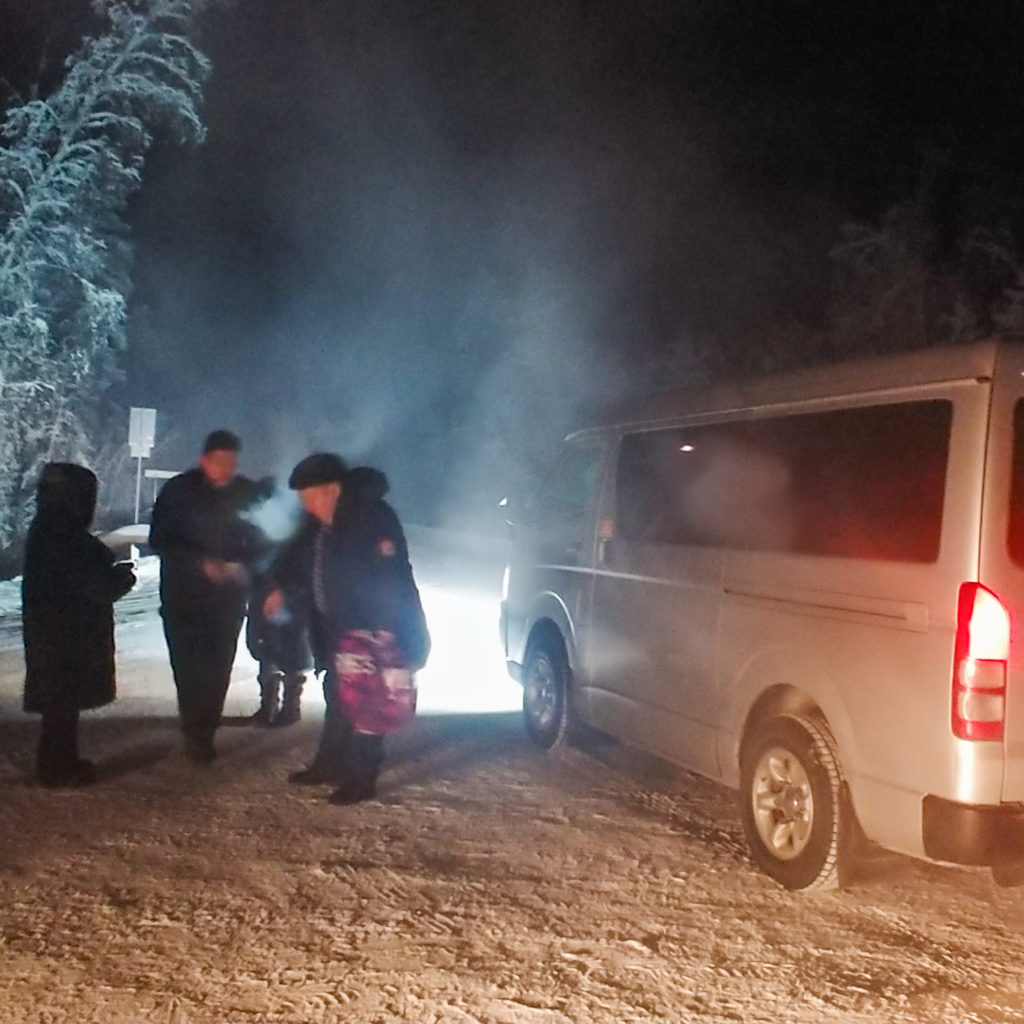 I accept the offer, but we now have to find some accomodation. In China or other countries where I hitchhiked, I would simply wait until morning on the bench and start hitchhiking from the first rays of the sun. Here, however, it is -50°C.  Unprepared to sleep outside, more than a few hours in the cold no one can stand.
We managed to get an accommodation at the local mining university. My intention to hitchhike Oymyakon interested them so I can even sleep for free.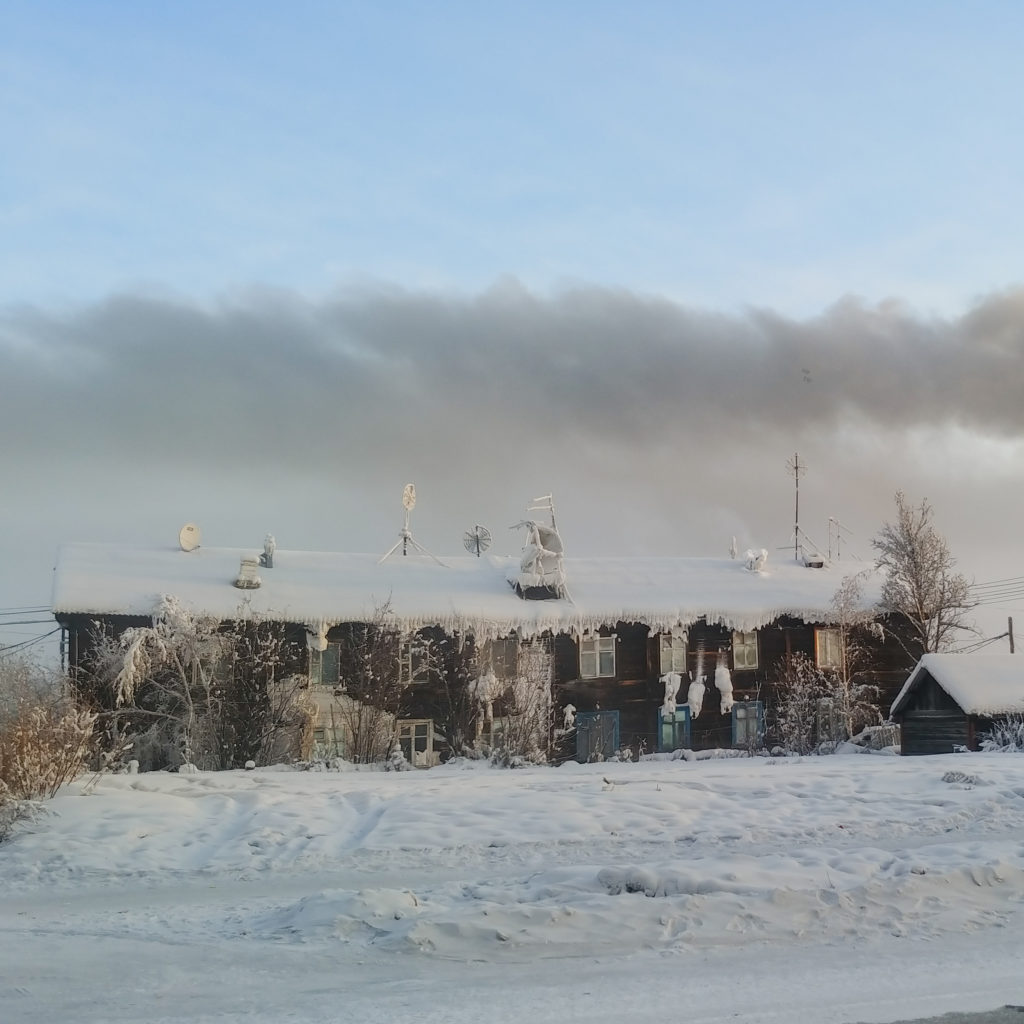 6.2.2020 I wake up in a dormitory in Khandyga and immediately start my journey.  The first truck stops within 20 minutes and we go towards Teply Klyuch.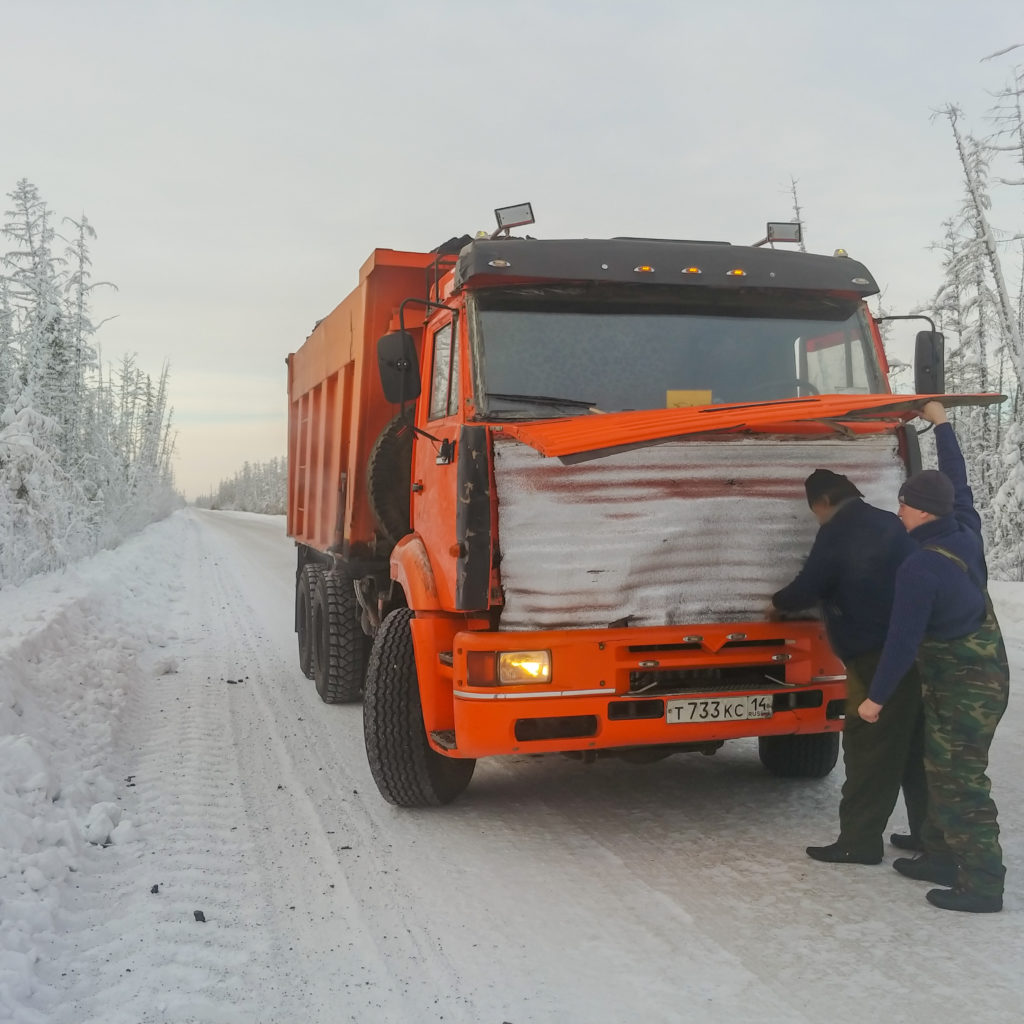 In Teply, I get off on a motorway, where I asked two guys, a father and a son at Kafe.  A silent nod of the head means that 400 km to the motorest Cuba we will go together.
That was fast.
There isn't any settlement for next 400km between Teply and Kyubeme where the motorest Kuba is. No village, no rest house and no heat source.
We did not pass any car during the journey. There was no car passing us. In total, during the 8 hours, about 4 trucks went against us.  Such an area is remote.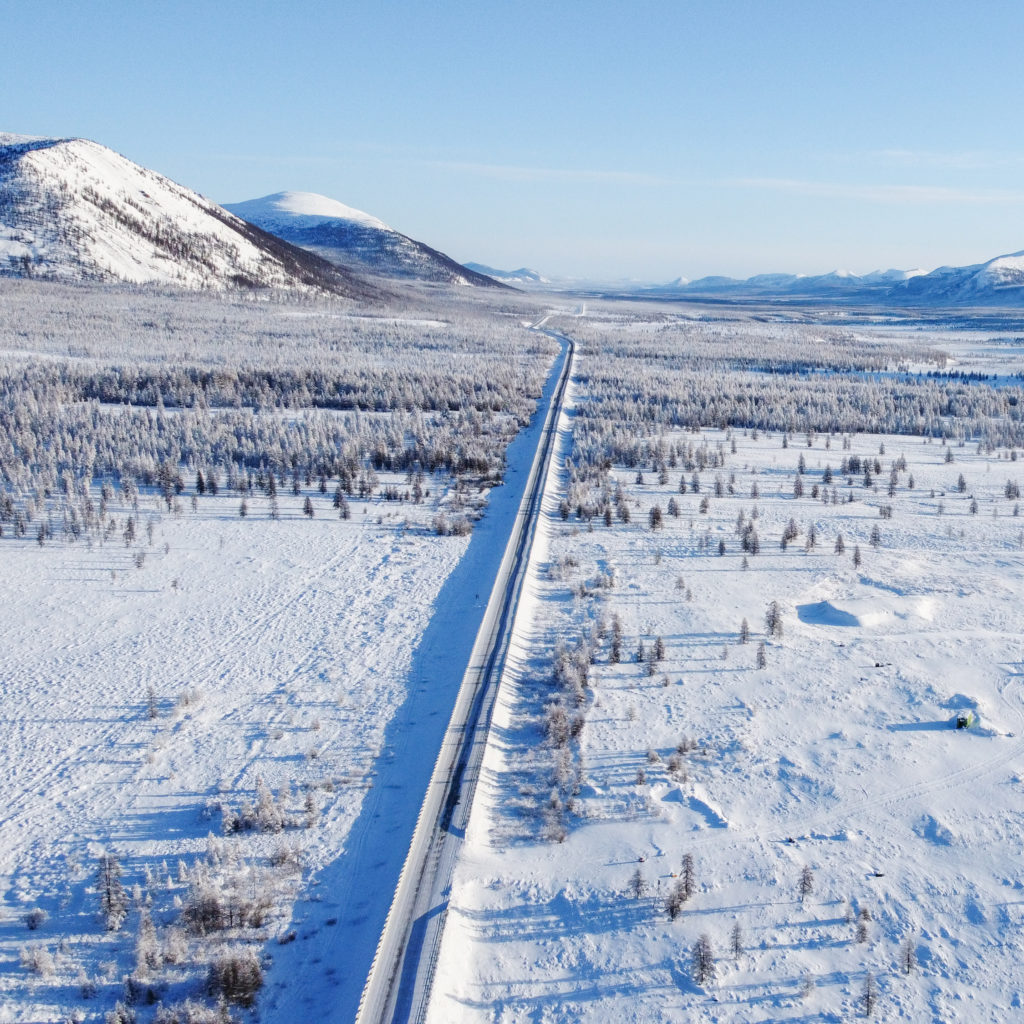 In the evening we arrive to the motorest Cuba. I'm staying alone, the drivers continue towards Uct-Nera. Cuba is the only place in the 250km radius where it is some warm. Fortunately, there is also wifi. However, it is still a day and I am going back 2 km on foot to the Oymyakon intersection. It's last 200km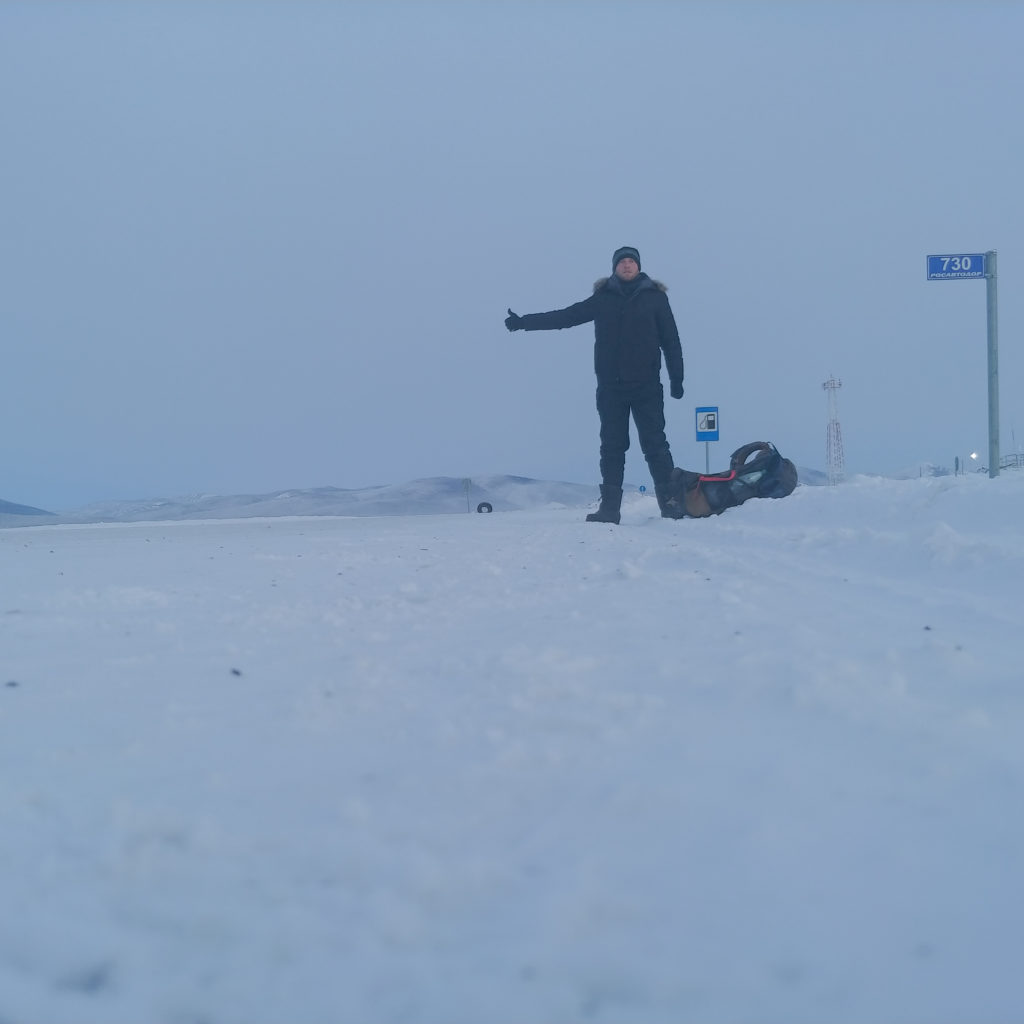 I hitched 2 hours. 5 cars passed. 2 stopped.  The first went in a different direction the second was the police.
I'm walking back to the motorestrest. It's -48°C, so after two hours of hitchhiking and seven kilometers on foot, I have frozen whole face so even truck drivers are scared of me once I enter the motorest.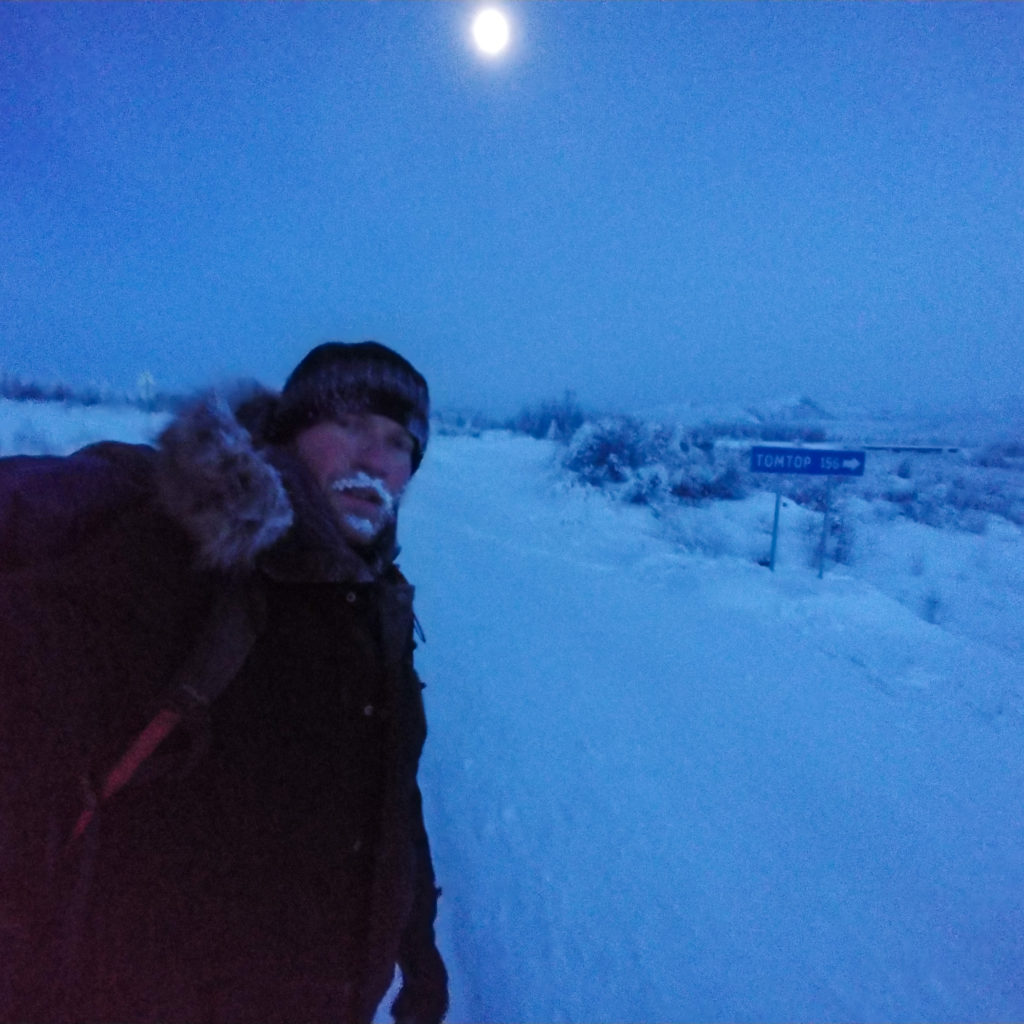 It is dark, 6 PM and outdoor -50°C. I've asked few people, no one to Oymyakon. However, the waitress agreed that I can stay there. By the midnight until they close is enough time, so I edit photos, procrastinating on FB and do everything to keep my mood. People come and go in groups. I'm here alone, in one of the most remote areas of the world and I really have no idea if any car will go my direction and if I will, will I have enough strength to wait for it in that severe cold.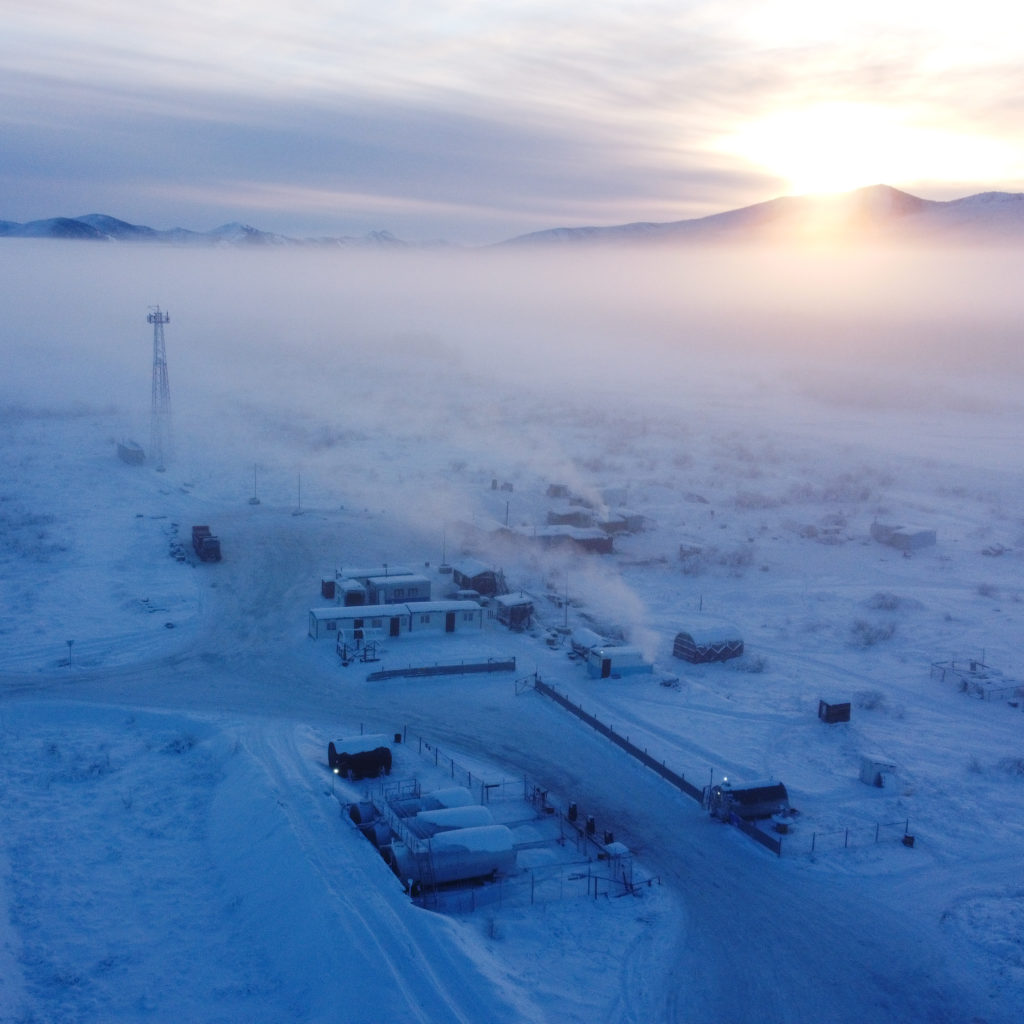 We stayed three people, who want to sleep. I joined the benches together and slept really well. The door was locked, but somebody was knocking on them several times during the night. It is cold outside, I thought to open, but the locals we're indifferent, so I left it that way.
Coming here few hour's later, it could be me, knocking on the door and/or waiting on freezing cold outside whole night.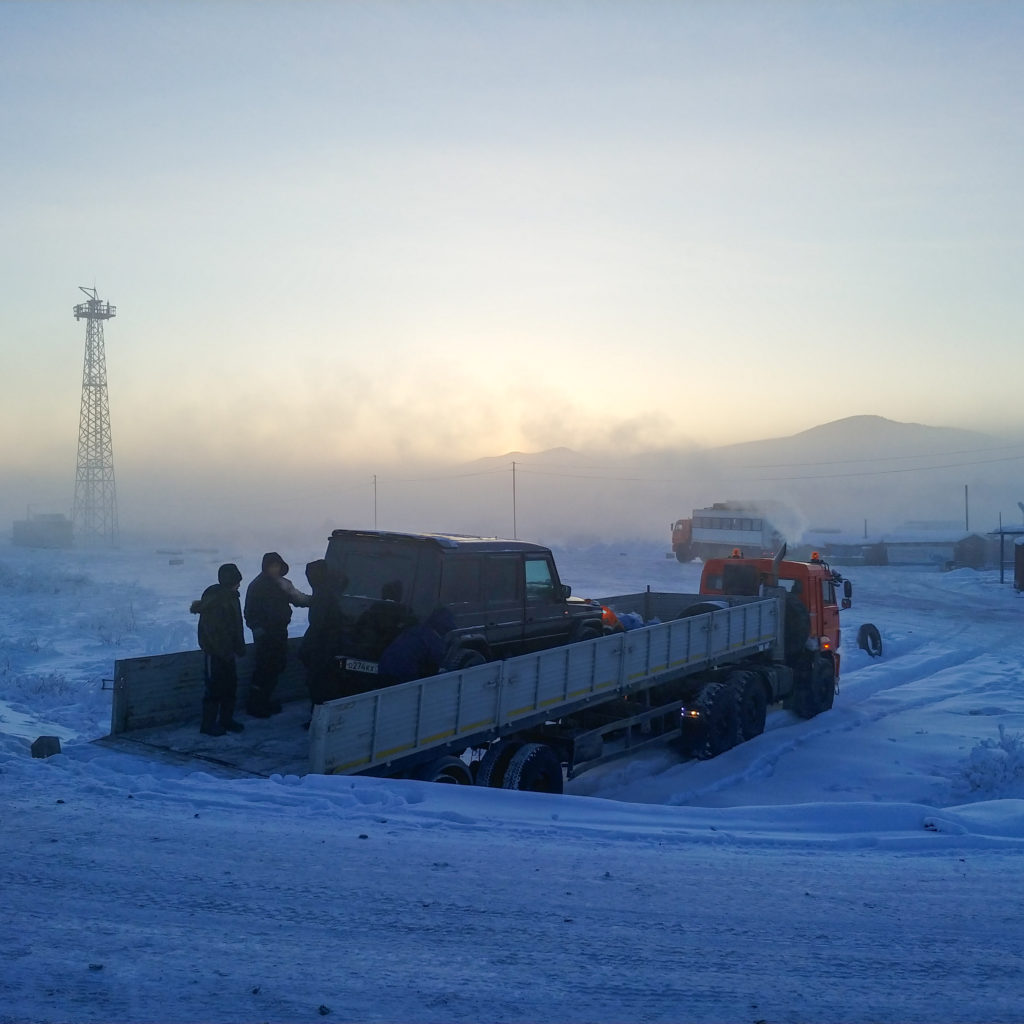 7.2.2020 morning -48°C. I walked again 2km on the crossroad for Oymyakon. As soon as I got there I stopped feeling my toes on left leg. I decided to put on a third layer of socks.  Despite all the caution, I removed my foot from the shoe barefoot. I immediately put on my socks and shoe again, but in such a severe frost in combination with already cold foot I could not warm the shoe enough.
I got cold.
It was a day and the sun was shining nicely, but I began to realize that those 2 km to the motorway Cuba I may not be able to return.
I walked around as usual and waited for the car, but finally within 20 minutes the truck full of coal stopped.
He goes to Oymyakon!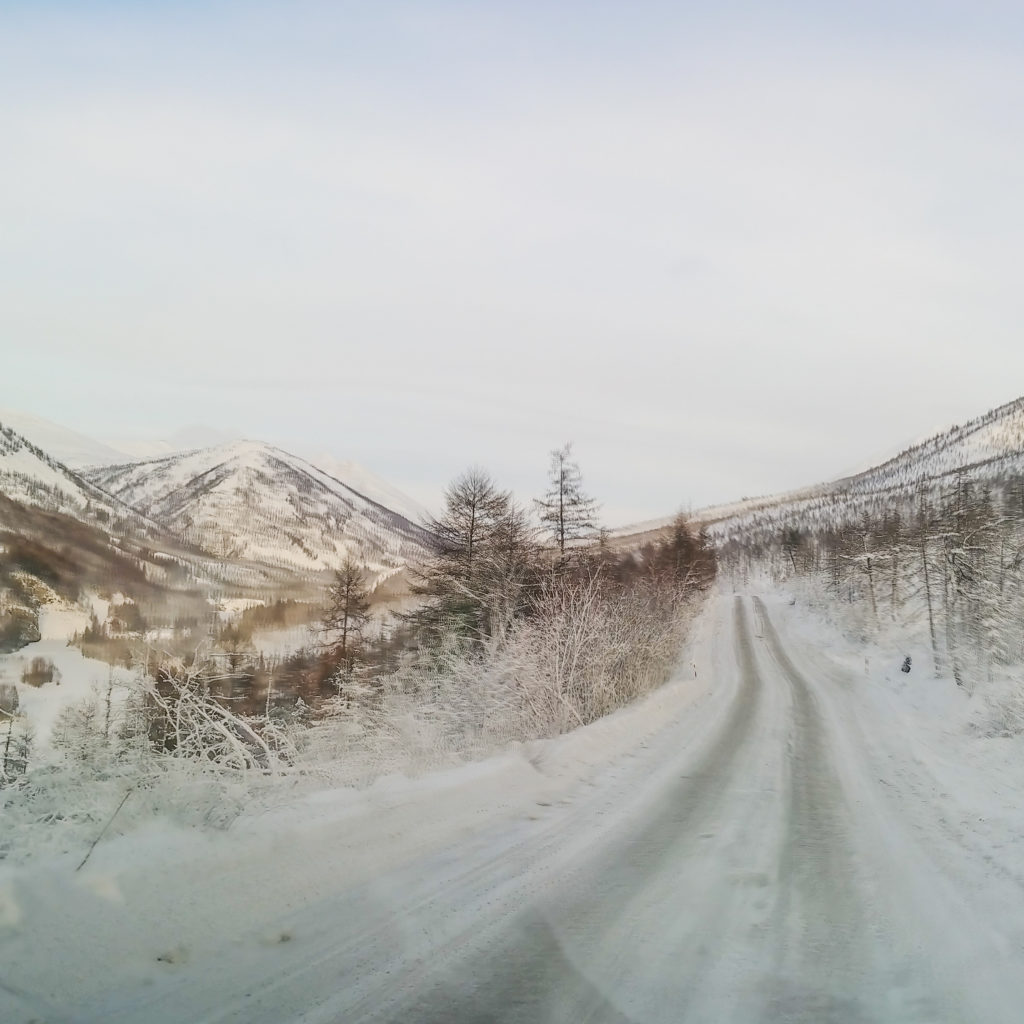 The ride goes without discussion, but that is usual here. People do not speak much in these regions.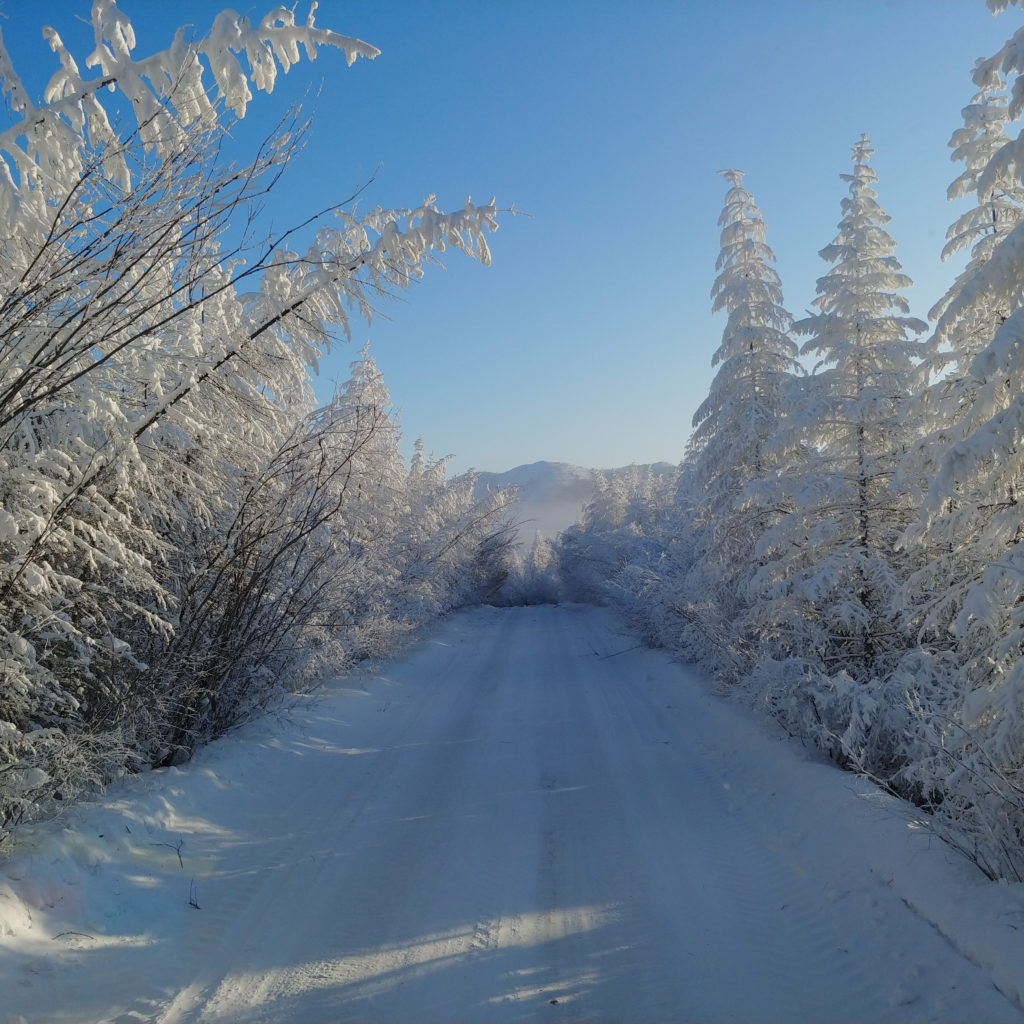 After an hour of travel, I realize that reaching Oymyakon will be an all-day battle. A car loaded with 25 tons of coal goes slowly and the road itself is in a very bad condition.
I ask the driver to stop. I explain that I have a drone with me and I want to record something. With the spark in eyes agrees, so we do a shot of a car full of coal heading for Oymyakon. It is quite thematic, because cars full of coal go to Oymyakon very often.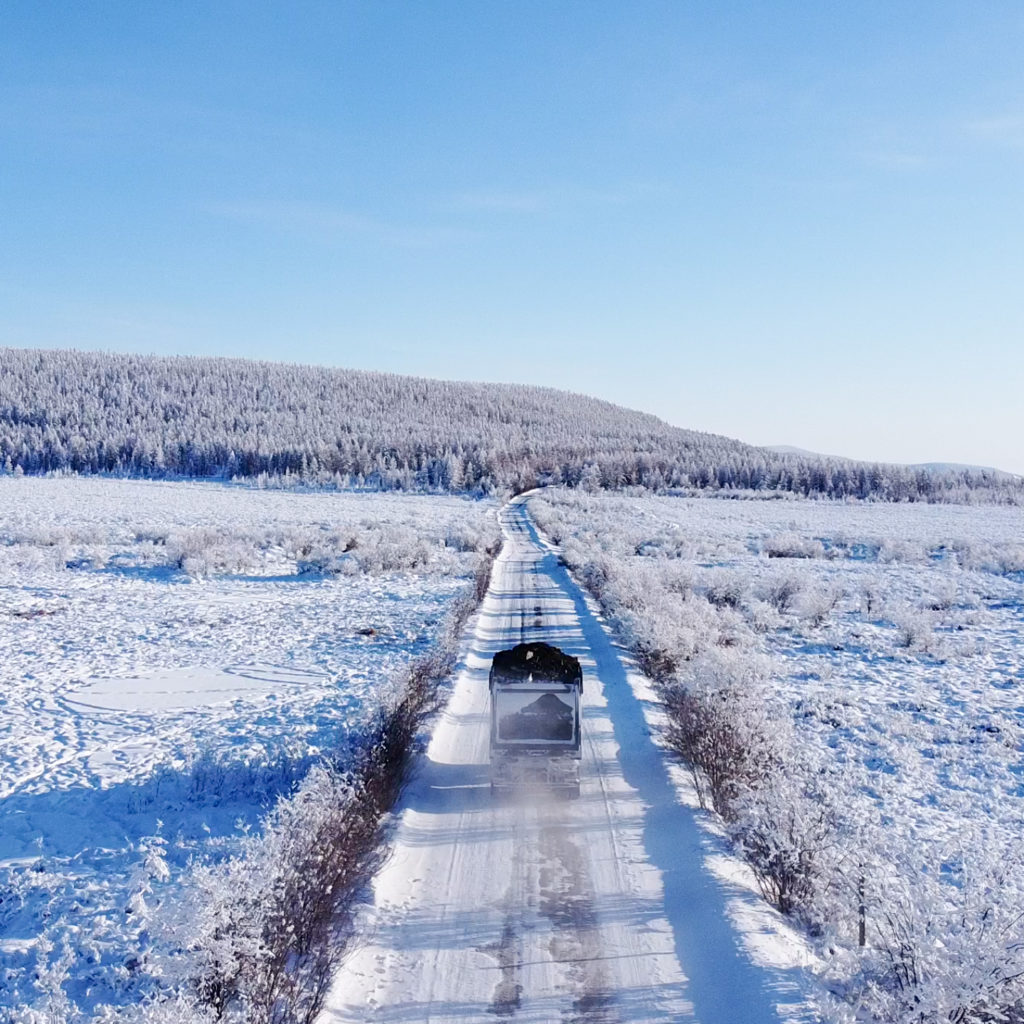 We arrived to Tomtor, a village in front of Oymyakon, where the driver announces that he actually ends here.
To Oymyakon, however, is still 40km.
So I go to hitchhike, the 40 km is not so much but after about 2 hours of waiting when not passed a single car, 3 growling dogs that wanted to eat me there and of course a strong coldness I'm giving up and going to look for the accommodation. I've asked two people I've saw outside, they're both sended me to the guesthouse.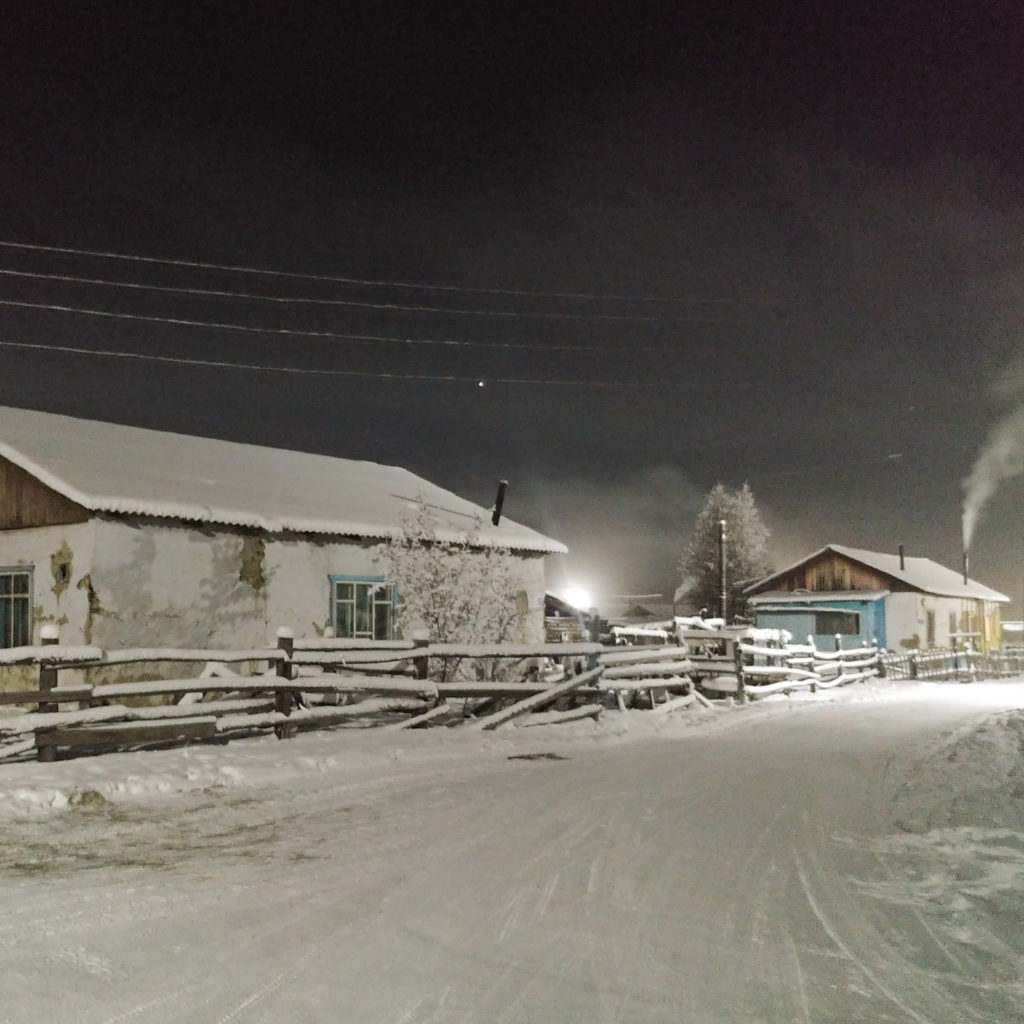 I'm greeted by 2 girls, who I briefly spill my hitchhiking story from Yakutsk. Although I usually avoid commercial places, I feel I have come well. The lady calls a taxi that could take me to Oymyakon. The taxi driver asks for the price at which I would travel several times whole Slovakia.
Of course I refuse, although I understand the price. It's just a very expensive region.  Accommodation in that area is more expensive than in San Francisco.
Whole day I haven't eaten, drink and freezed for more than five hours in a severe frost.
Currently, I feel further from Ojmiakon than I was from Yakutsk. I'm thinking about to go on foot. A week ago, a Polish expedition had been here and one guy walked. But he had a personal doctor.
The cars don't go in that direction anymore, those who go, are full and a 40km walk with heavy backpack means again not eating, drinking whole day and hoping to reach it. The frost will not tolerate the opposite.
The second option is to end it here and go to Yakutsk with a driver who brought me here. This way I would reach one of the coldest places in the world and it would even be almost for free.
However, I decide to stay and made it to Oymyakon.
The intention how to do it in the most effective way I will form in the morning. Once I will be fresh.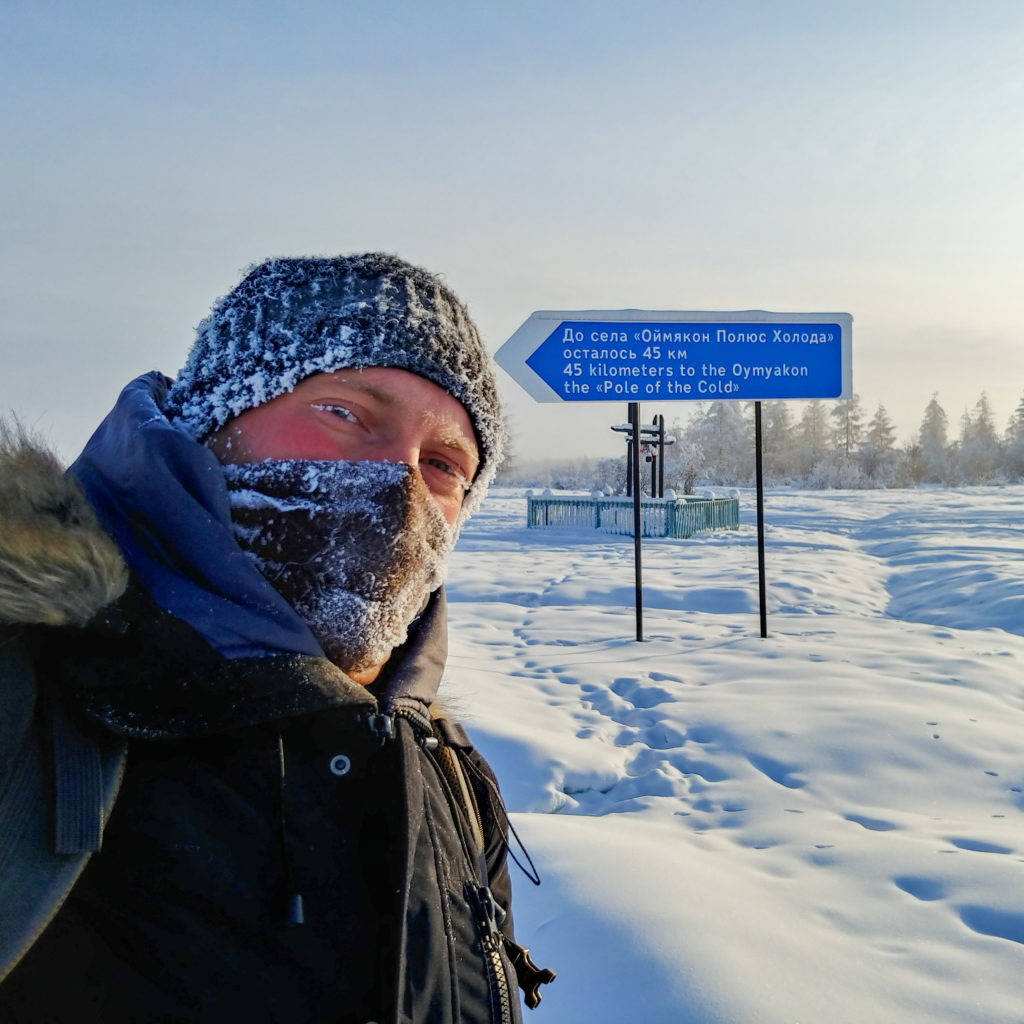 8.2.2020 I wake up, eat and go to the village. The lady said that today people from Oymiayakon will come for shopping.
I'm starting to hitchhiking where I stopped yesterday. After an hour in the frost 2 cars arrive at once, stopping first, going towards Ojmiakon but not entirely to the village.  Driver says that the second goes directly to Ojmiakon.  I'm hitchhiking the other. He want money, but the price is fine.
I'm in Ojmiakon!  ❄ ❄ ❄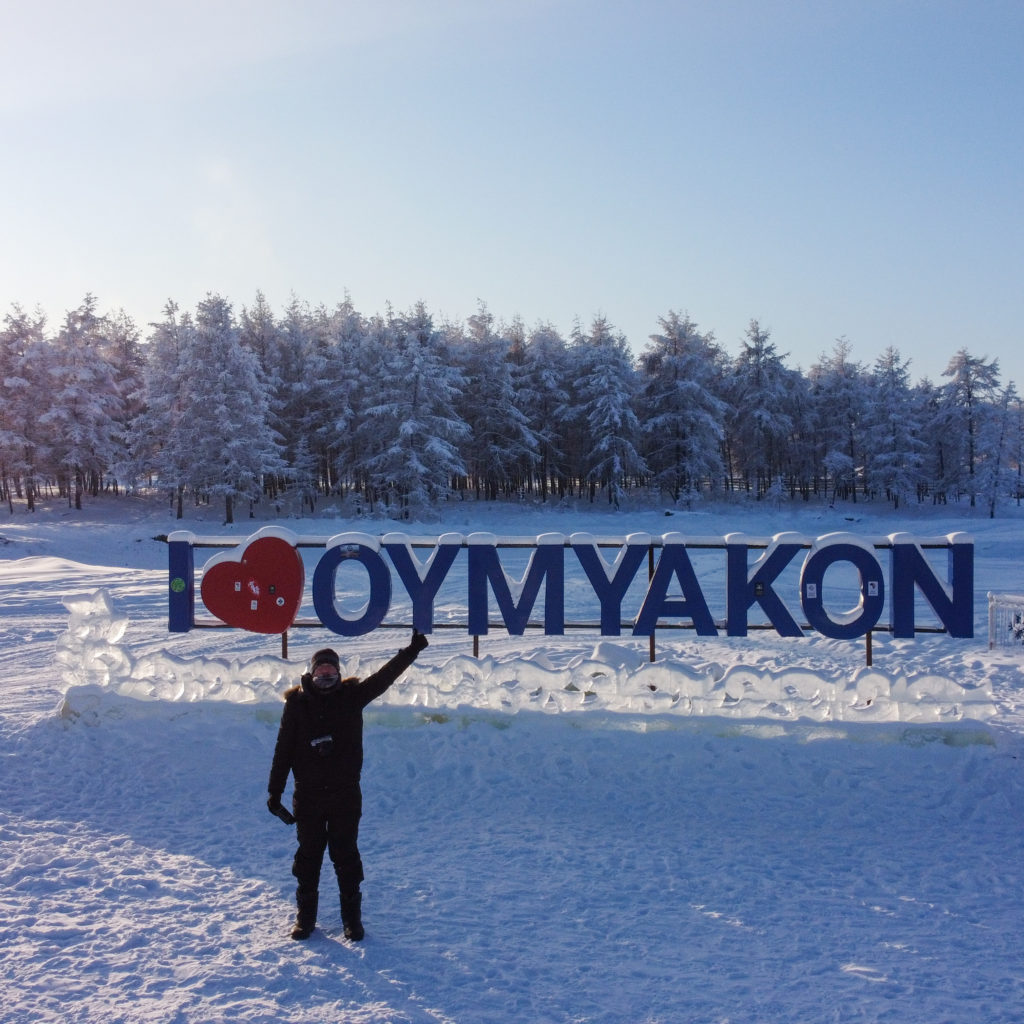 -50°C outside. I'm taking a selfie with a thermometer and I'm looking for a place to sleep.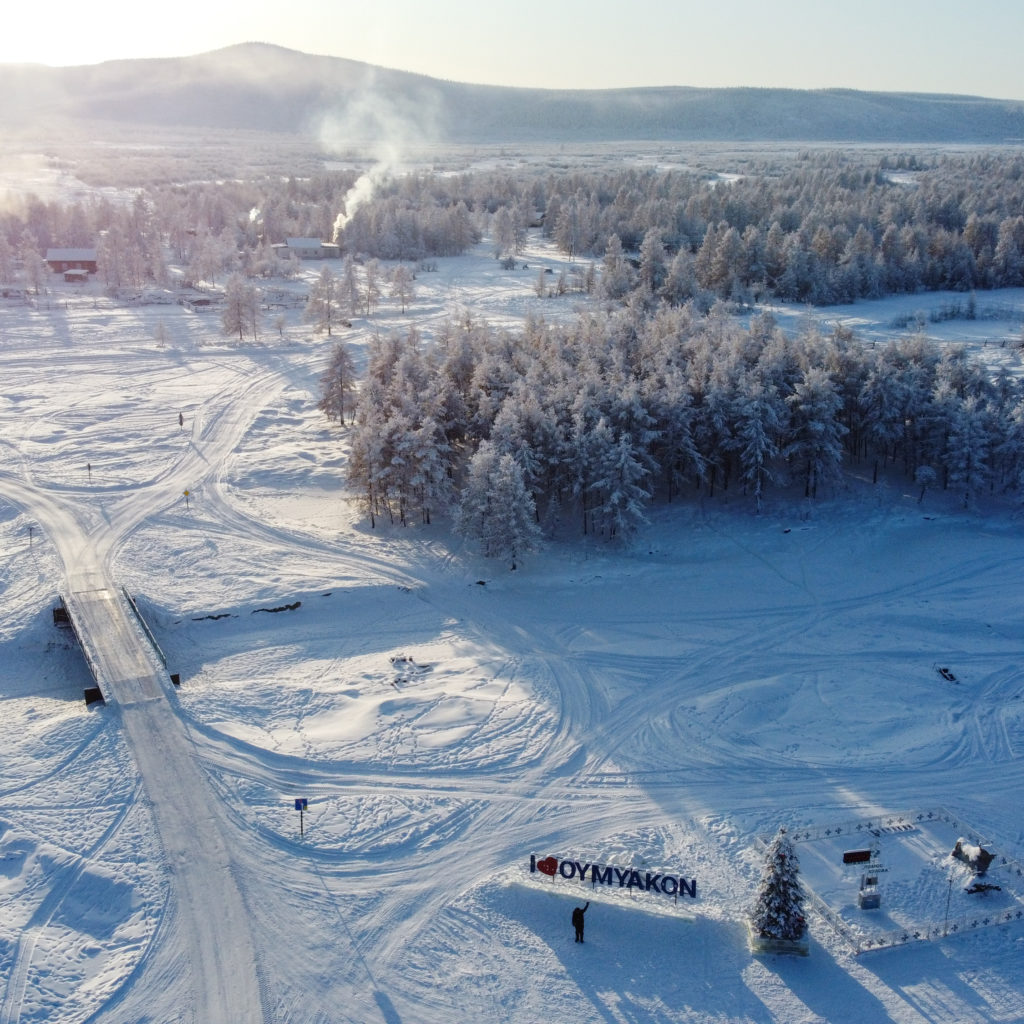 Walking through the village, I find myself quite ashamed to walk into someone's house and ask for free night. I feel like in Slovakian village, where everyone knows everyone and I am an intruder who asks for something that every tourist likes to pay a lot.
I want local experience, which can be only with random people.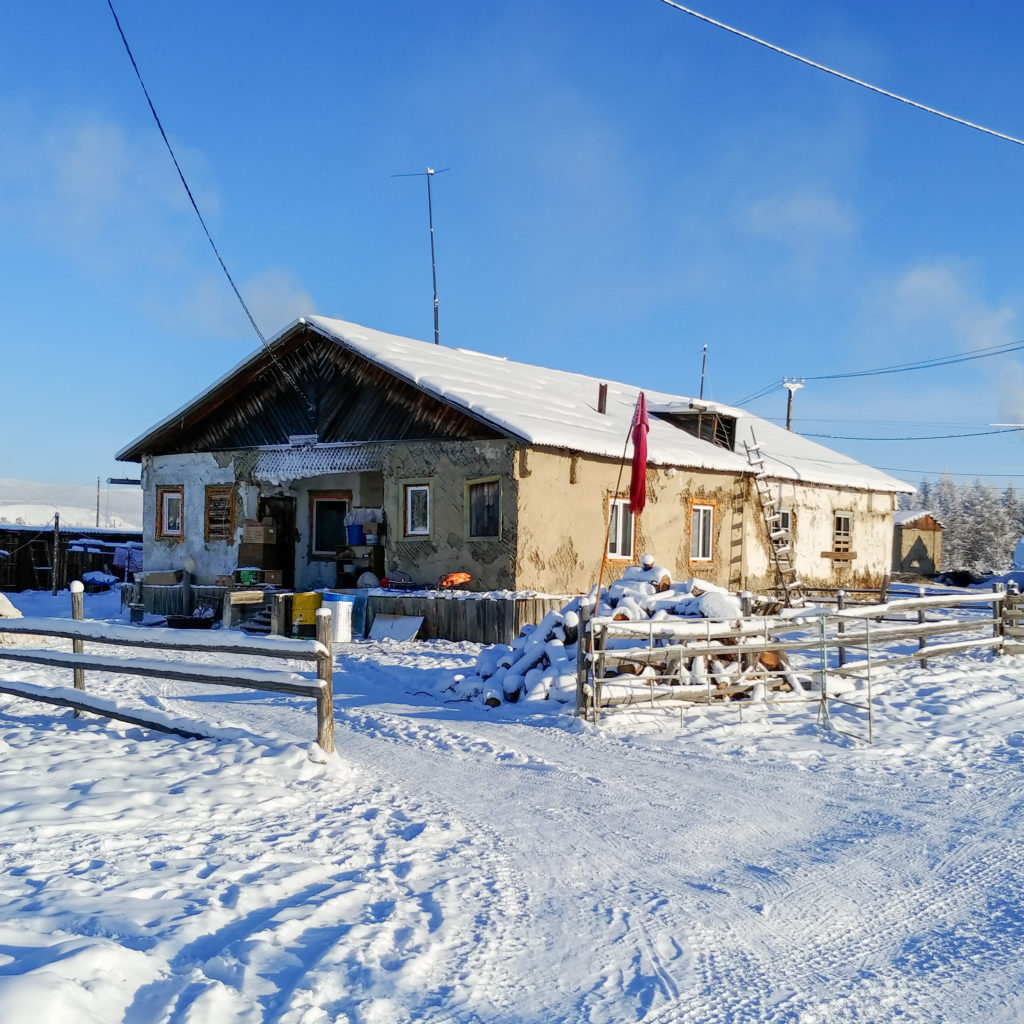 Along the way, I walk into a large wooden building in where few people put pictures on the wall. It's warm here so I'm warming up and watching them.
Later on they notice me and we start talking. Classic questions, answers. I'm in the house of culture.
Can't resist to ask. Can I stay here for the night?
Of course!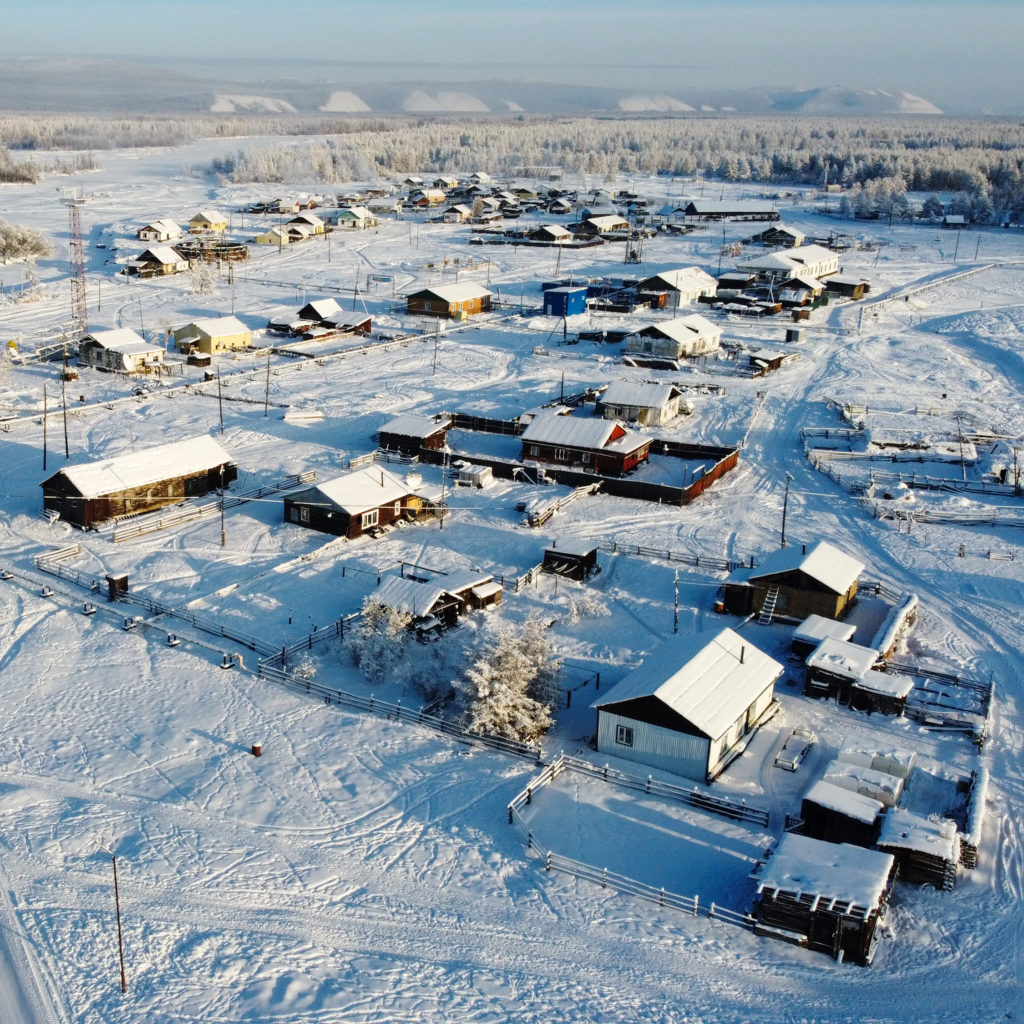 So I keep my backpack there and go for a walk in the village.
I come to a place with a thermometer, unpacking a drone and droning, the coolest place on earth.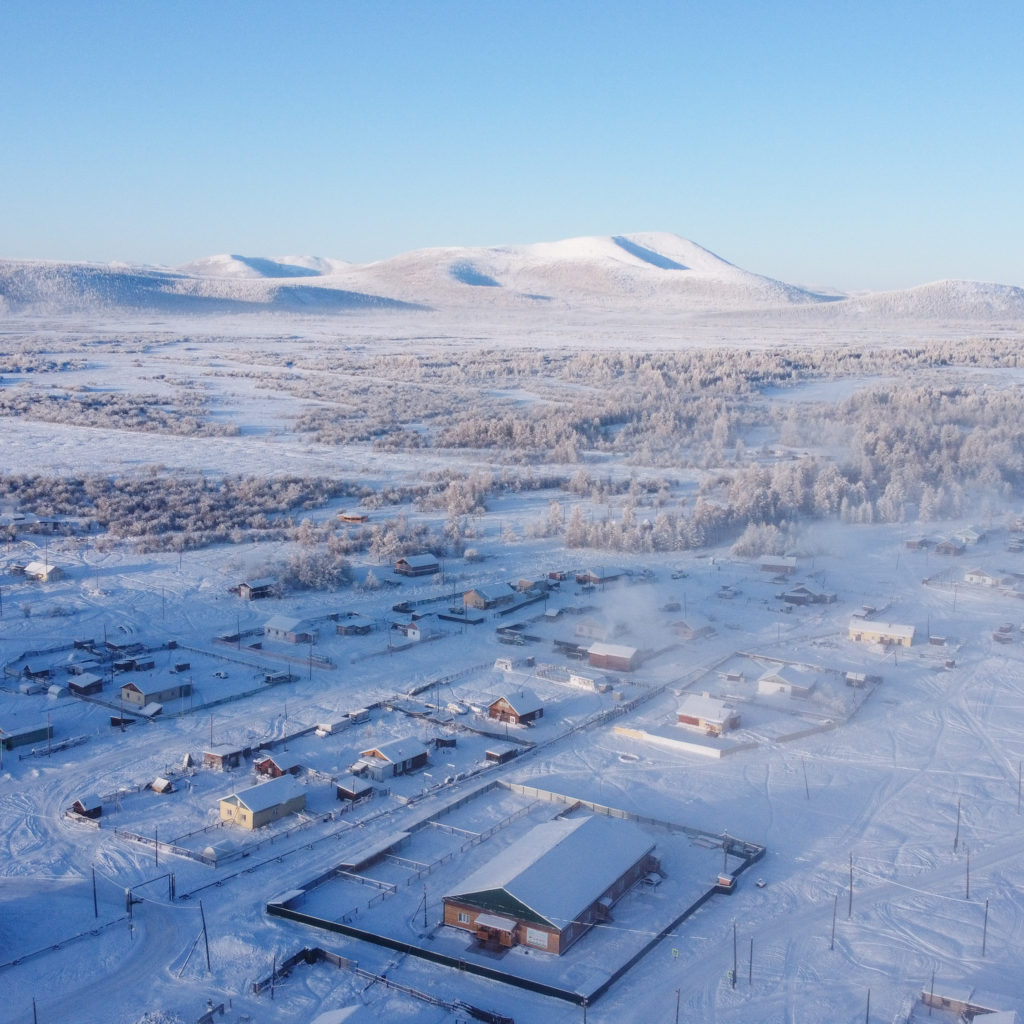 The drone in this climate makes special sounds, but works and flies.
I flew 10 minutes, a few imperfect shots and land.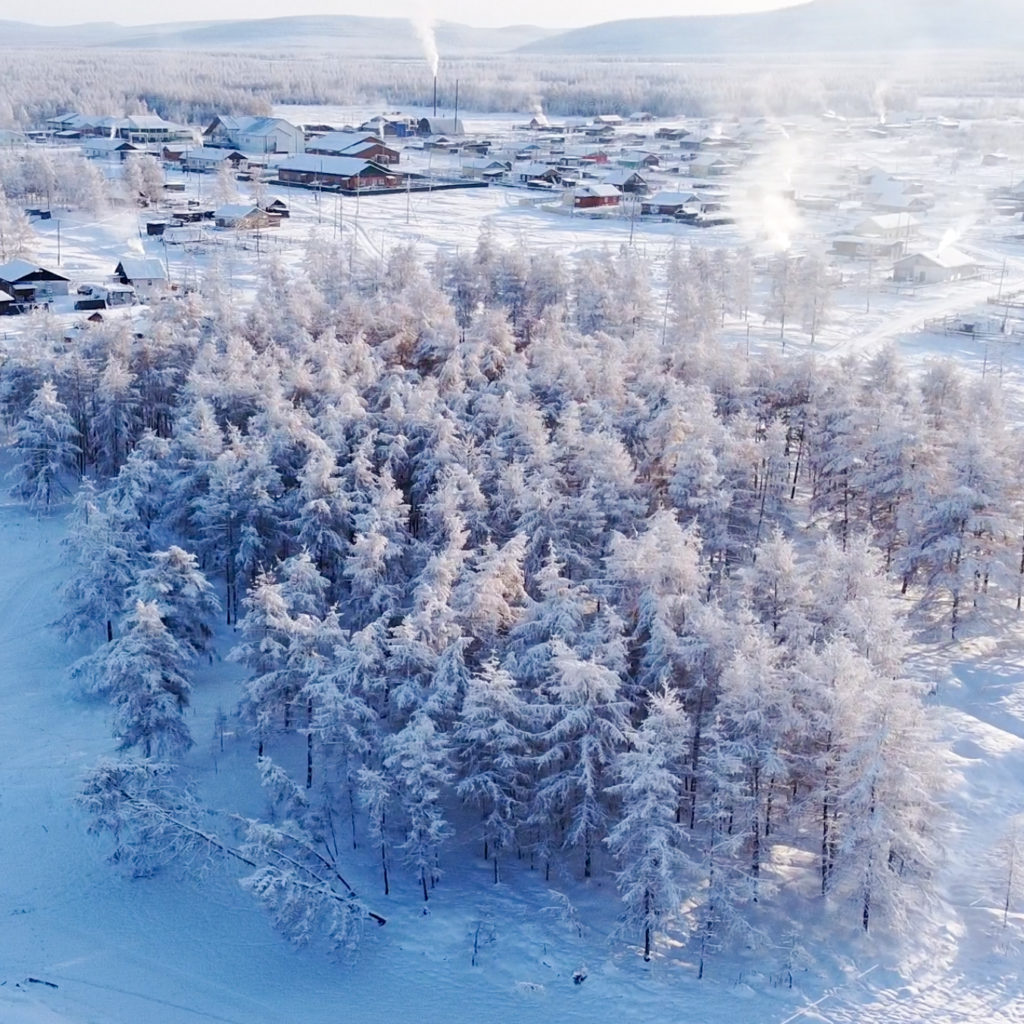 After a while, I can't feel my fingers. It takes about 15 minutes while they come back to alife, but with the sences come strong pain. The pain is so strong that the tears come to my eyes. The teardrops are freezing on my face.
I'm in the coldest place in the world. Having tears from frost is a part of the experience.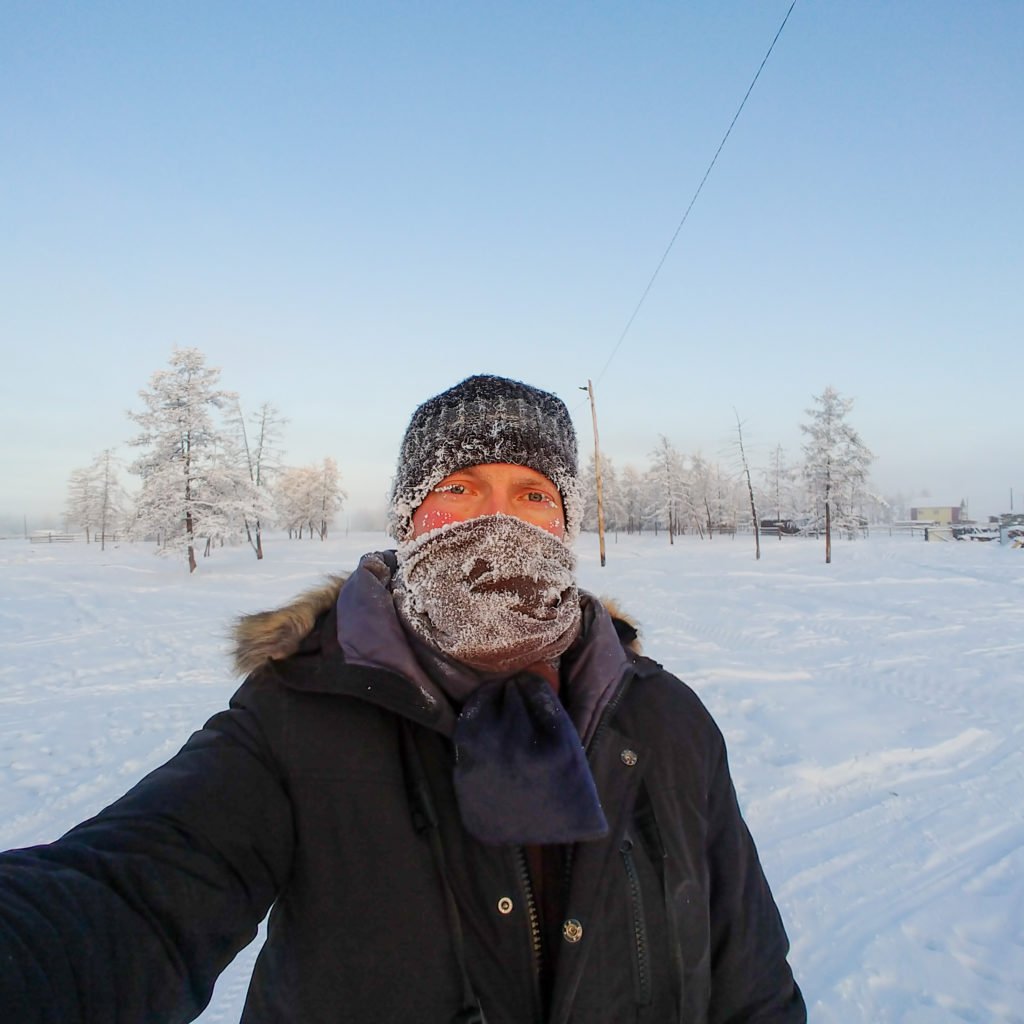 I'm packing up the drone and going to the heating plant ask when the nearest car comes in coal. They could drive me.  Along the way I'm meeting a lady and asking where I can find the famous Yakutian horses. She says that in a neighbour village, 7 km from Oymyakon.
Plan for tomorrow is clear
9.2.2020 the second day without internet. Not that I miss it so much, but I have no way to let people in Yakutsk know that I'm ok. We are going to look for the horses with locals. In Oymyakon there is a special kind of horse that can survive in these severe frosts. However, he needs to periodically scratch the ice from his back. For that they have a special procedure I was looking forward to see.
We could not find the horses, they are high in the forest and the road to them would take me at least one day.
I start the drone and take other shots, but this time from behind the window.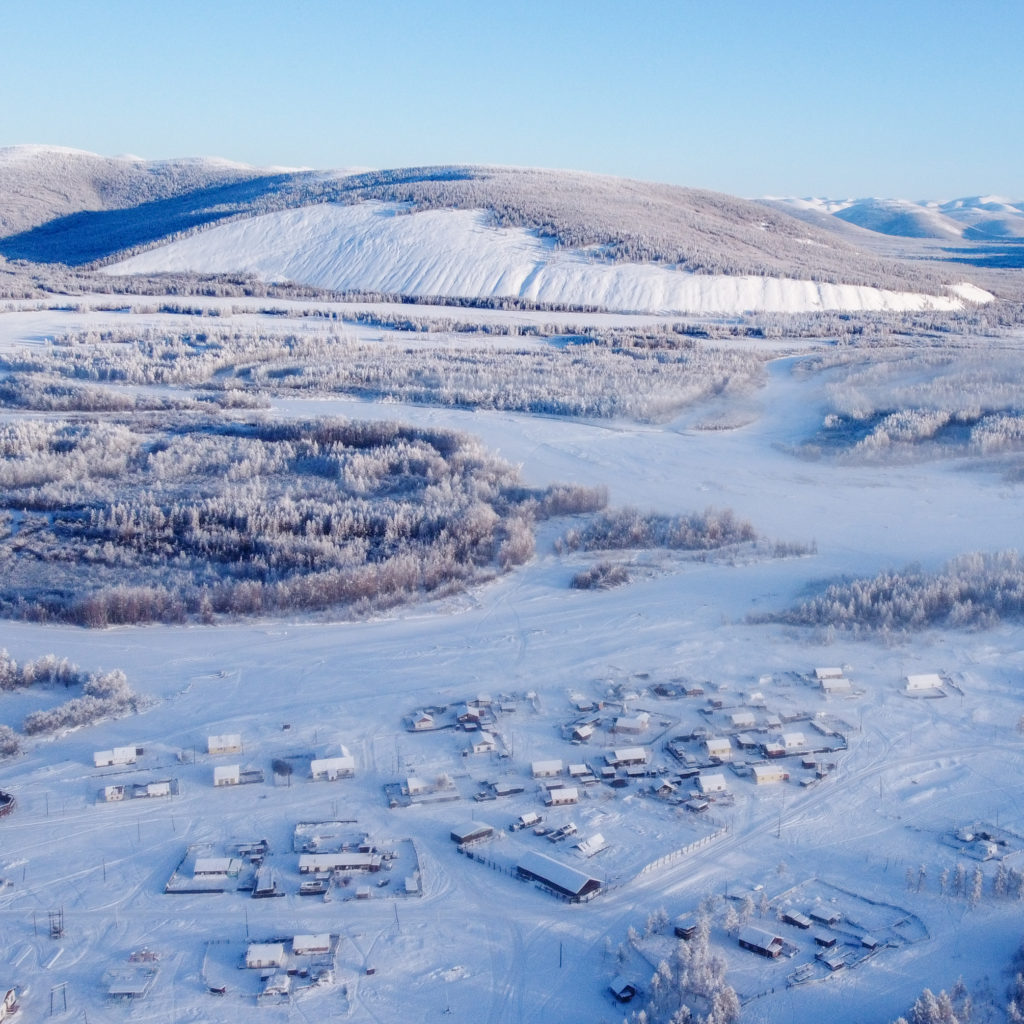 The intention is to start hitchhiking in the afternoon and go to Tomtor in the evening.  There is still a former truck driver waiting who can take me to Khandiga.
It's Sunday, the locals say no car will go today. I took a walk, 5 hours and 20km at 50°C. Four cars have passed, all in the opposite direction.
Tomorrow is Monday, the cars will definitely go.
In the evening, however, I was informed that a neighbor was going to Yakutsk on 5 am.
I'll think about it and later on accepting his offer.
Traveling back would take me the last few days I have in Russia.
I better spend them in Yakutsk.
Besides, it wouldn't be such a challenge anymore.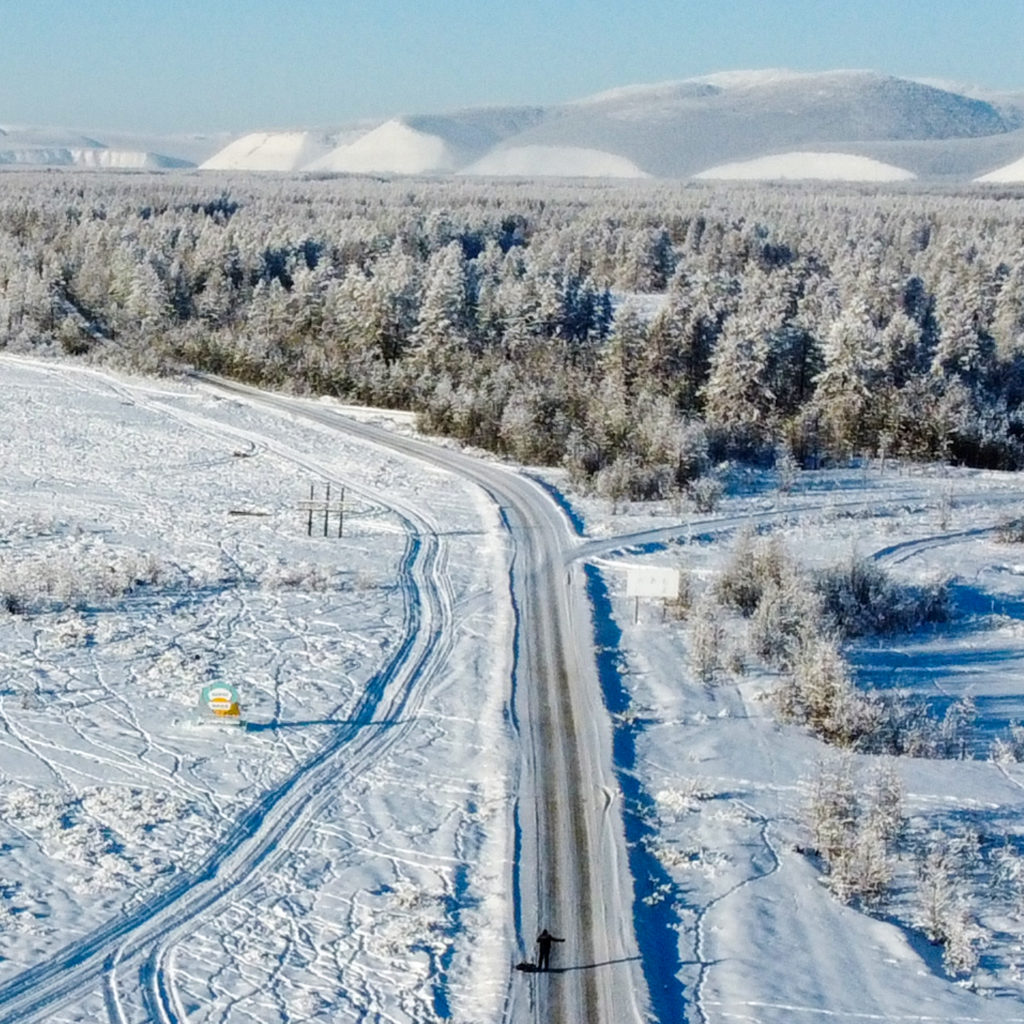 Conclusion
I have been planning this journey since I heard about Oymyakon. It was also mentioned in famous blogs as an exclusive destination. As I read them, I even felt that something like this was only possible with a lot of courage, tour guide and bunch of money, of course.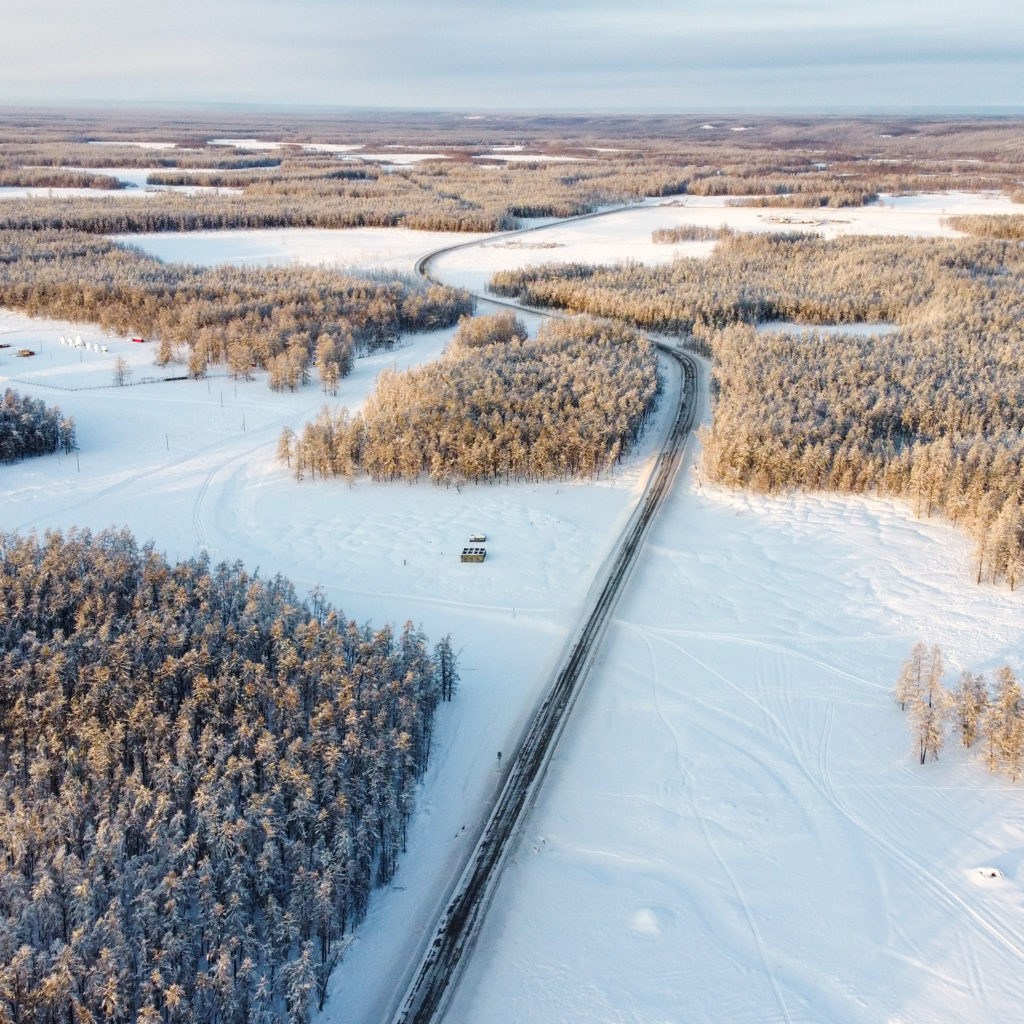 I wore clothes from a second-hand, a classic city jacket and boots we're cheap winter working shoes.
I had so much warm clothing that I didn't even use all. After the trip I gave it to the locals.
The limbs are the most vulnerable in such a cold. If you cool your body, you will be cold, if you cool your feet, you will be sick.
Clothing is an insulation that holds your heat, but if there is nothing to generate heat, the clothes won't heat us up.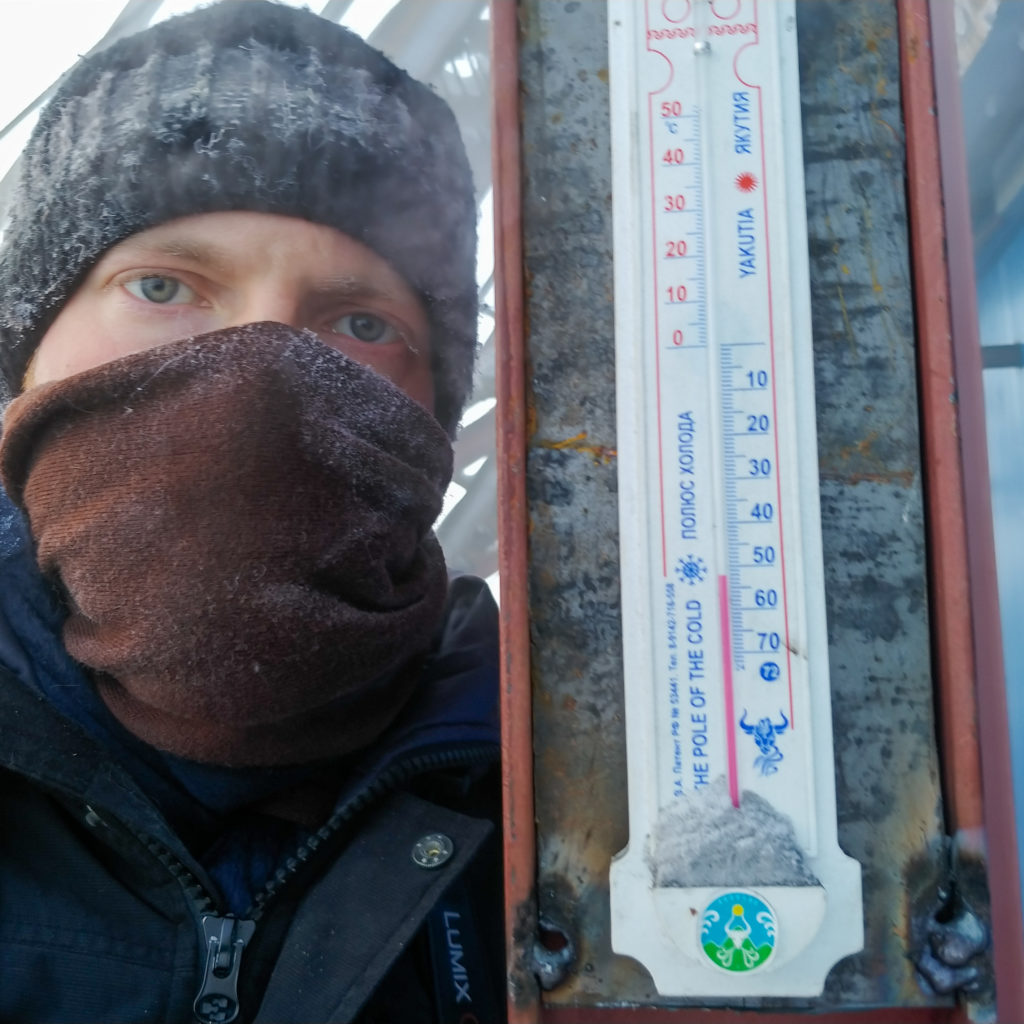 For safety, I recommend hitchhiking from village to village.  Never get dropped in a place where there is no heat source (unless we have our own). At temperatures of -50°C it's not possible to eat or drink anything outside. Everything is frozen and freezes in seconds. The fruit freezes so that it's possible to hammer the nails. Bread thawing mold by continuously freezing unfreezing.
Electronics must be waterproof. Water condenses inside and destroys integrated circuits.
You must protect your face with a scarf.  The steam freezes from the mouth and creates ice on the face that is not pleasant and later painful.
Chemical warmers do not work at such temperatures at all.
My thanks
I did my best to prepare for my journey.  However, a lot of power I've got from local people, friends whom I met in Yakutsk.
Reaching Oymyakon without getting to know them would be like paying my way to Oymyakon, sitting in a car whole day, taking a picture in front of the thermometer and go back. Syntetic and pointless.
The road is the destination and it is the people who make it the most beautiful